Less Stupid Today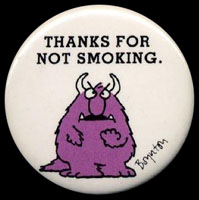 Jesus. This not smoking really does affect one's brain. I didn't need any 9 to make his king invalid
last night
. The QJ on the flop did that. I think I was right about the QJ6 flop, but I think I transformed a 4 into a 9. It's possible.
Anyway, stats update:
Smober Time: 2D 3h 24m
Amount Saved: $14.99
Cigs Not Smoked: 42
I think I'm going to keep playing in that Tuesday tourney. People in general played too loose and it wasn't hard to get to 13th, even though I wasn't catching great cards/flops in general. It was only once I got towards the end that I started making questionable plays, which is my weakness. But I prefer no-rebuy tournaments and first place was $960, which is pretty good for a $60 buy-in.